SUBMIT YOUR VIDEO HERE...
EVENTS & NEWS
Bizarre Transmissions from the Bermuda Triangle Xmas Special

The Bermuda Triangle returns to ROKU Channel OSI 74 for an all new season of Bizarre Videos & humor..



FEATURING-
Buddha Gonzalez, Domino, Owani, Otto von Schirach, Nassie Shahoulian, Manuel Zimmermann & Rolando Alexxis
SPECIAL GUEST:
Dwight Schultz(Murdock) and Dirk Benedict(Face) of the Original A Team
Episode Premiers on
ROKU Channel OSI 74
This Dec 23rd 2018 11PM EST Time.
ADD OSI 74 to your ROKU HERE..
https://channelstore.roku.com/details/73764/osi-74
Photos from Retro-Con 2017
---
Buddha Gonzalez Makes Horror Host of the Week
Artist Bradley Beard Features Buddha Gonzalez as Horror Host of the Week with an amazing rendition of Buddhas Likeness...
Check out more great Art By Bradley Beard @ www.facebook.com/bb2design/?fref=photo
HORROR HOST OF THE WEEK #8 – BUDDHA GONZALEZ
OSI 74 Month
He's known as the Funk Overlord. Tonight I present Buddha Gonzalez, host of "Bizarre Transmissions from the Bermuda Triangle" which can be seen on the new OSI 74 Roku Channel and on the OSI 74 website. Buddha comes to us from a time unknown. In his own words, "Aliens, who are the Guardians of Atlantis, abducted Buddha Gonzalez and gave him magical star glasses, holding the Universal power of "The Funk", which is obtain
ed by all things being on "The One". With His new powers, Buddha can harness the power of The Bermuda Triangle & can manipulate frequencies through music. The aliens left Buddha back on Earth in special care of horror movie hosts who took Buddha into their clan." His high-energy must-see show cuts through the late-night clutter offering the viewer a visual experience like no other, serving it up funky as only Buddha can. Eclectic one –of-a-kind music videos, engaging interviews interwoven with a horror/sci-fi theme make this one of the most unique shows of its kind. Not too be missed.
---
How to add Channel to your ROKU....
1. ROKU USERS go to:
https://my.roku.com/account/add
2. Then add code LLV269
Thank you for your continues support, We love you All
We have only just begun , All Systems Go....
Powered by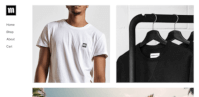 Create your own unique website with customizable templates.